When Jayne Collins came into his life more than 18 years ago, Barry Adams knew he'd found an especially kind and caring direct-support professional. He soon realized he'd found a family, too.
Collins, her daughter and granddaughter all are part of the support team for Adams, providing services in his home or spending time with him in friendship. The multi-generation DSPs work for Minamyer Residential Care Services This link opens a website in a new tab., a Franklin-County based company that serves people with developmental disabilities.
"The three of them have hearts of gold," company founder Darla Minamyer said. "We're honored to have them as employees."
Collins and her daughter Jacki Frost already were working for Minamyer last fall when the state announced that it would temporarily waive the age requirement for DSPs and allow agencies to hire 16- and 17-year-olds so long as they work under supervision.
Minamyer jumped at the chance to employ Frost's teenage daughter Camryn. "We hired her on Tuesday after the Friday announcement," she said.
For Camryn, 17 and a student at Briggs High School, being a DSP came naturally. She's known Adams all her life. "I've always liked being around Barry. It was never uncomfortable or strange," she said. "I work with two clients in Gahanna, too, and I really enjoy it."
Together, Collins and her daughter Jacki Frost have more than 50 years of experience working with people who have disabilities. They say the culture and values at Minamyer Residential have been the best fit. "Of all the providers where I've worked, the thing that impressed me is the care and concern for the people they serve," Collins said. "And Darla's good to her staff. I've had two or three agencies reach out and offer me the moon and the stars. I wouldn't leave."
Minamyer said she pays above-average wages, offers good benefits and strives to create a positive, family-like environment – much as Collins, Frost and Camryn do for Adams and others. "The past few years of pandemic and reimbursement level challenges have really made our company owners, management and every single employee work extra hard and long," Minamyer said. "However, seeing the substantial benefits to the lives of those we serve is a big reward for working in the social services field."
Adams' West Side home – the only one he's ever known – is clean and cozy, with a devoted dog and a bedroom decorated in his beloved superheroes. He also adores Collins' cooking. "This is my home, and I love it," the 57-year-old said. "I love you, Jayne!"
Frost has left the disabilities industry previously for better-paying jobs but said she always follows her heart back. "I made more at UPS just to scan a package, stick a sticker on it and put it on the conveyor," she said. "That's not right."
She and her family, along with public and private agencies across the state, support advocacy efforts to increase Medicaid reimbursement rates and wages so that more DSPs can stick with jobs that are important and fulfilling. "There are other people like us," Frost said. "We do this because we love it."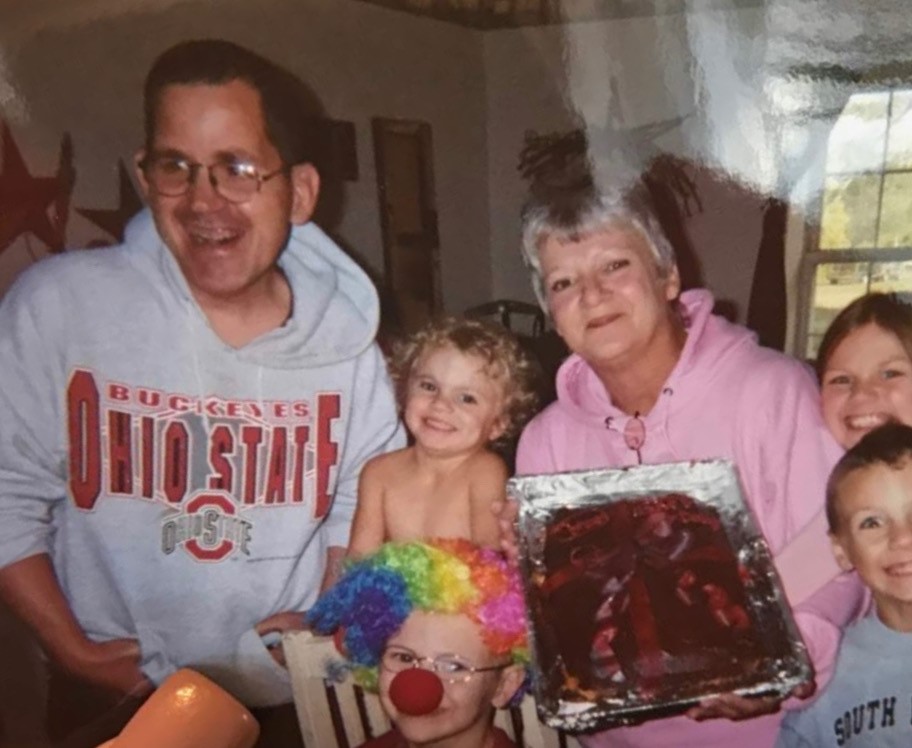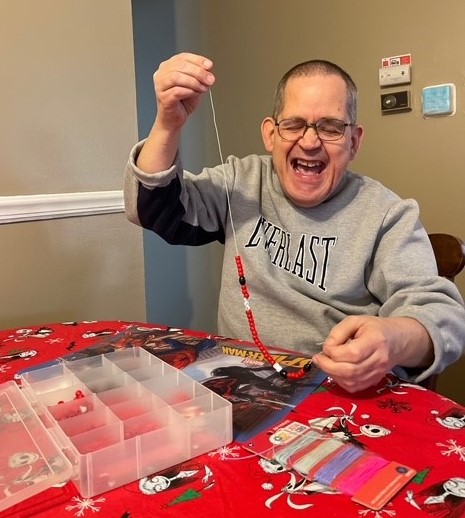 Barry was all smiles while working on a home-made necklace.