Even before they picked up their first knitting needles or tugged at a skein of yarn, Destiny Hawkins and Peggy Bergados already were on track for success at their new hobby.
"They have such motivation," said Kristen McKenna, their knitting instructor. "These two are amazing."
McKenna, who regularly teaches through a craft-classes enterprise in Westerville called Inspiring U, often works with beginners. But she hadn't before tailored her knitting lessons to students with disabilities.
As it turned out, the only real snag was the difficulty Hawkins and Bergados could face getting to the lesson site. So McKenna visits the two roommates at their apartment, where they now cast on, knit and purl with ease.
"I used to watch my mom and my aunts do it when I was young, but because I had partial vision, I didn't think I could," said Bergados, 68, who is blind. "But with Kristen, I can."
McKenna jokes that she's simply an in-person YouTube video, there to provide guidance or help fix a goof now and then. "Everything we do is based on their talent, not mine," McKenna said. "I had taught Destiny two lessons at Inspiring U. Peggy had crocheted a little as a child, so she had the feel of the yarn. She can feel the stitches. She and I sat down, and that very day she was knitting. It was wonderful."
Experts say knitting can be therapeutic, fueling senses of relaxation, optimism and accomplishment. "To knit against a pattern and have it actually turn out to be something is exciting," said McKenna, who works in corporate marketing and didn't take up knitting until she was past 50.
Bergados loves arriving at the "end product," having created an item of beauty from yarn, skill and an idea.
For a long time, Hawkins had felt intrigued every time she saw someone knitting. She liked to picture herself doing it, too, crafting baby booties, hats and mittens for others. Working around her disability was just a matter of patience, practice and having the right teacher.
"I want to let people with disabilities know that they can do what they want," said Hawkins, 34. "I'm proud that I've been able to do this, and Peggy, too, even though she is blind. It's like this is all an inspiration."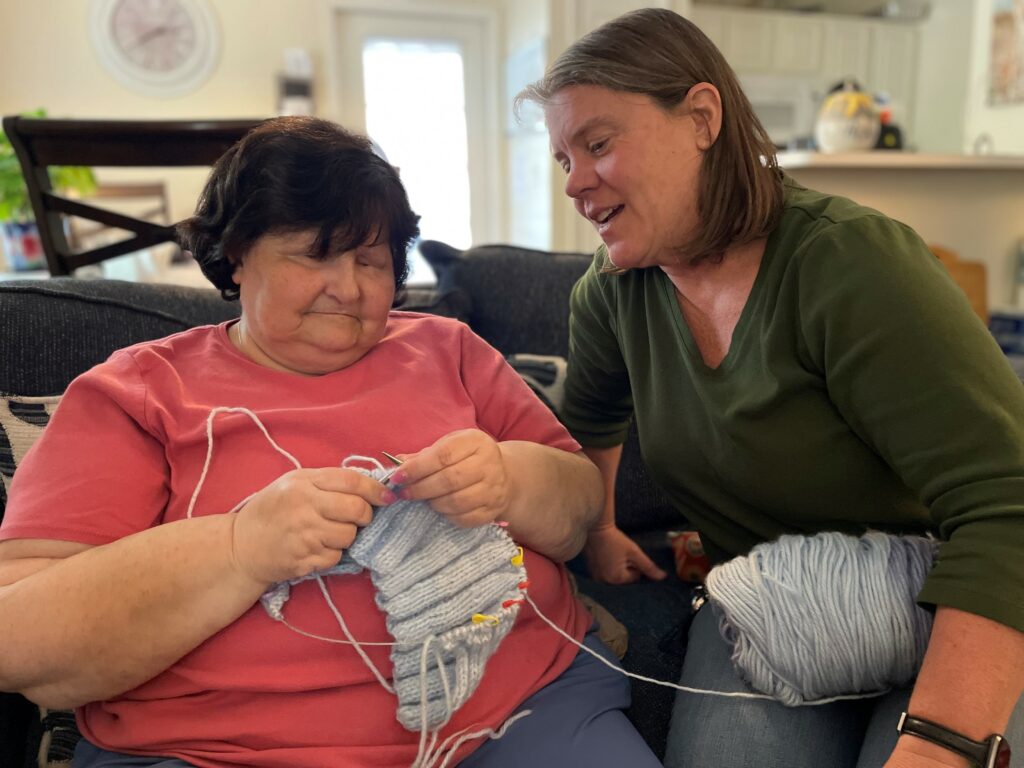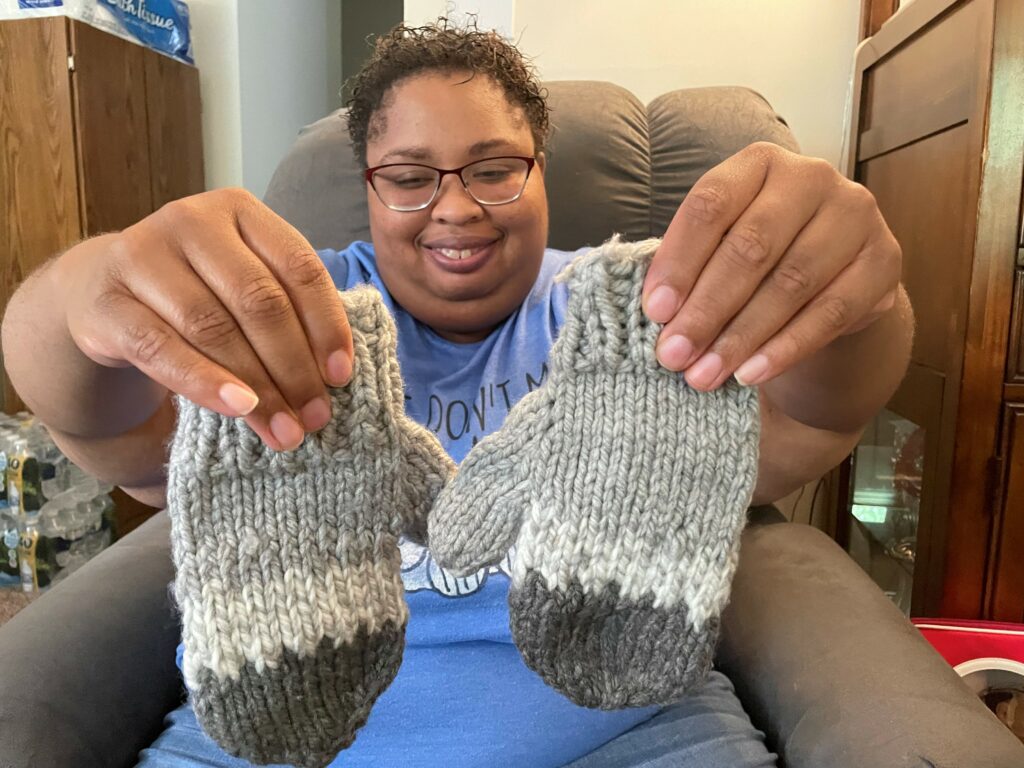 Top photo: McKenna says Peggy Bergados, who is blind, has a great feel for knitting.
Bottom photo: Hawkins shows off her hand-made mittens.